Bibliography - Children's Books About Worship
An annotated list of excellent children's books about worship.
Tags:

last updated on

September 2, 2019
Calvin Institute of Christian Worship books
At Your Baptism, Carrie Steenwyk and John D. Witvliet
Baptism is a sign of God's love and promises. This beautiful board book makes a perfect gift for children at their baptism. Vibrant illustrations and text adapted from the French Reformed Church liturgy communicate this message in a simple but meaningful way.
En la mesa de Dios/At God's Table, María Cornou, Carrie Steenwyk, John D. Witvliet, Joel Schoon-Tanis
In this vividly illustrated bilingual book, the celebration of the Lord's Supper unfolds as a multi-faceted event that nourishes our faith and stirs our imagination to see the gifts of grace and signs of God's ongoing work in our lives and God's world.
하나님의 식탁/At God's Table, María Cornou, Carrie Steenwyk, John D. Witvliet, Joel Schoon-Tanis
At God's Table is a Korean-English children's book that explores the richly symbolic practice of the Lord's Supper in Christian worshiping communities.
En la escuela de los Salmos/At Psalms School, John D. Witvliet, María Cornou, Joel Schoon-Tanis
Psalms is a prayer book that we find in the middle of the Bible. Reading Psalms is kind of like going to school. The psalms teach us how to listen to and talk with God in worship, at church, and every day. Read At Psalms School and learn about the psalms.

Board books
Board book series, Julie Stiegemeyer: perfect for babies and toddlers
Our Father, Sabrina Bus
The Lord's Prayer with a brief sentence of application for each phrase of the prayer.
Bless This Day, Anne E. Kitch
Eight prayers for every day toddler activities such as riding in the car and bed time.
Picture books
Organized by theme: the worship service, Christian Year, The Lord's Prayer/prayer, baptism and the Lord's Supper, Psalms
Sunday Morning, Gail Ramshaw
This book centers around "the wonderful words that Christians speak in church: ancient words like 'alleluia' and 'amen,' simple prayers like 'Lord, have mercy.'"
Every Day and Sunday, Too, Gail Ramshaw
Words and images of this book narrate the basic structure of Christian worship.
1, 2, 3 Church, Gail Ramshaw
A rhyming number book plus primer on Christian worship
Come Sunday, Nikki Grimes
Grimes is an award-winning poet and author. This book celebrates a day of worship through the eyes of a child with bright, watercolor illustrations by Michael Bryant.
A Children's Guide to Worship, Ruth Boling
This book is targeted to children ages three through third grade. Might be placed in the worship space for children to use as a supplement to the children's bulletin.
Confession, Joni Walker
I Believe: The Nicene Creed, Pauline Baynes
Baynes transforms the creed "into a joyous hymn to God." She did the orginal line illustrations for C.S. Lewis's Chronicles of Narnia.
The Apostles' Creed, Joni Walker
The Apostles' Creed: For All God's Children (A FatCat Book) Join FatCat, the friendly feline, as he learns the traditional text of the Apostles' Creed―the earliest summary of the apostles' teaching.
Christian Year
Come Worship With Me: A Journey through the Church Year, Ruth Boling
Colorful pictures opposite one-page descriptions of the Christian seasons. The end of the book has several pages of Christian symbols and crosses children might recognize from church buildings.
Mouse Tales: Things Hoped For, Advent, Christmas, and Epiphany, Ruth Boling
A chapter book about a "mouse congregation's" experience with these three seasons of the Christian year.
The Lord's Prayer/prayer
The Lord's Prayer, Tim Ladwig
Bright, beautiful illustrations, "Top Ten" religious children's book for 2001.
Our Father: The Prayer Jesus Taught, Mary Joslin
Each phrase of the prayer is paired with a poem and Bible text.
When Daddy Prays, Nikki Grimes, illustrated by Tim Ladwig
Poems and pictures about prayer and a child's daddy.
The Lord's Prayer, Joni Walker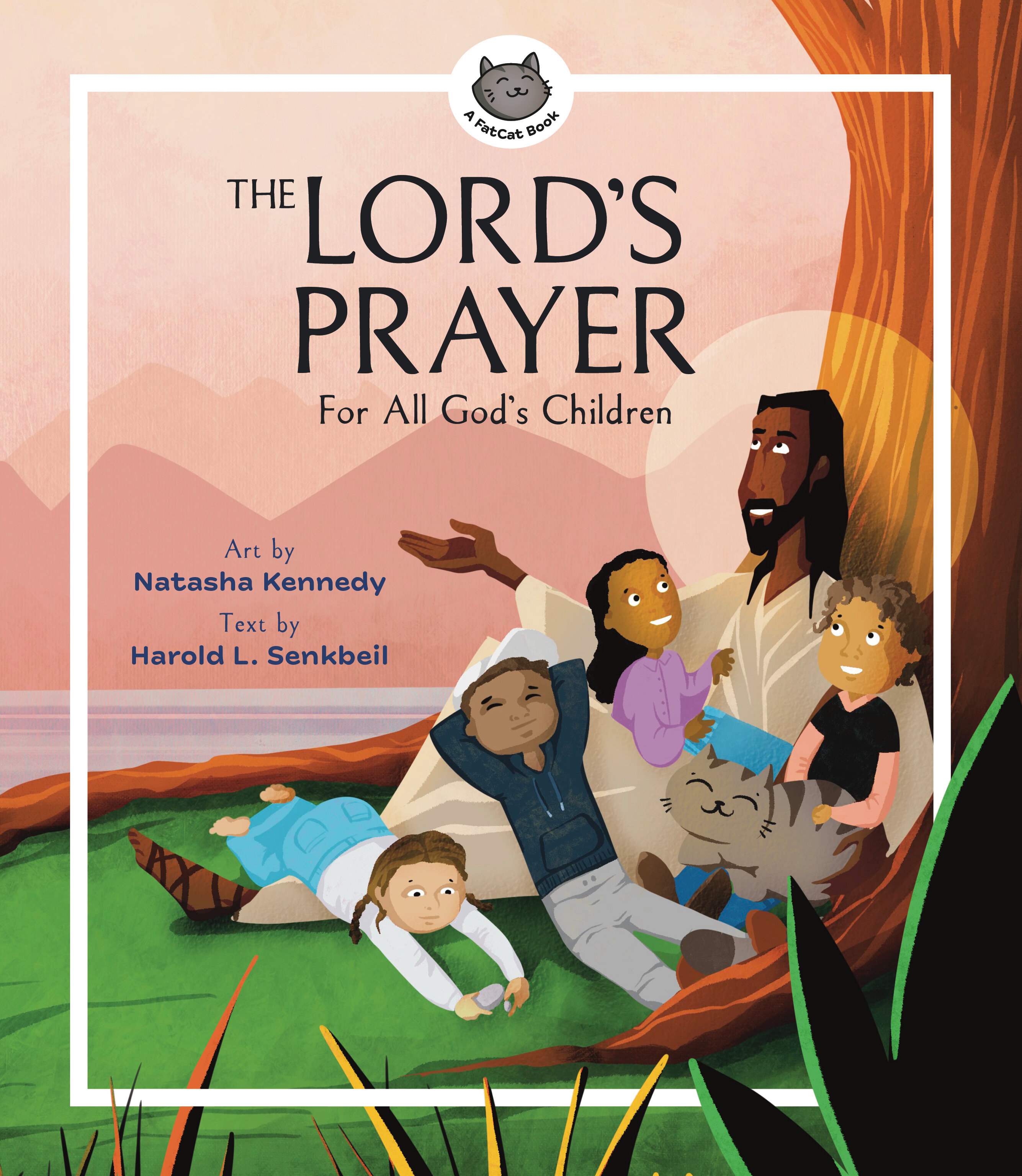 The Lord's Prayer: For All God's Children (A FatCat Book) Join FatCat, the friendly feline, as he learns the Lord's Prayer―Jesus's prayer that teaches us how to pray. This simple yet profound prayer shapes children's love for God, need for forgiveness from God, and dependence on God for strength and protection.
A Child's First Book of Prayers, Lois Rock
Over 150 prayers, each one simple, sincere, and memorable (including categories such as prayers for school days, a world at war, for quiet times, and bedtime)
Song of Creation, Paul Goble
Intricate, bright pictures illustrate the adapted text from The Book of Common Prayer. Children are encouraged to add verses of their own to the refrain: bless you the Lord: praise him, and magnify him forever.
He's Got the Whole World in His Hands, Kadir Nelson
Warm images of a boy and his family woven with the words to the well-known spiritual.
Baptism and the Lord's Supper
God Makes Me His Child in Baptism, Janet Wittenback
Water, Come Down! The Day You Were Baptized, Walter Wangerin, Jr.
Imaginative interpretation of creation's celebration of a child's baptism. Wonderful baptismal imagery used throughout the book: rainbow, washing, dying and rising, River of Life, Trinity, Child of God.
Holy Baptism, Joni Walker
This book follows a question and answer pattern around basic questions children may ask about the sacrament of baptism. Published by Concordia Publishing House.
The Lord's Supper, Joni Walker
This book follows a question and answer pattern around basic questions children may ask about the Lord's Supper. Published by Concordia Publishing House.
Psalms
Psalms for Young Children, Marie-Helene Delval
Simple paraphrases of over 40 psalms paired up with bright, colorful illustrations.
Psalm Twenty-Three, Tim Ladwig, illustrator.
Vibrant city scenes and every day activities illustrate this well-known psalm.
Psalm 23, Barry Moser, illustrator
Artist Barry Moser writes, "My favorite psalm, the one I memorized when I was a youngster like you, is this one, the Twenty-third."
Illustrated Psalms of Praise/Ilustrados Salmos de Alabanza, Amy Ribordy Reese
This side-by-side, English/Spanish translation of Psalms 104, 148, 150 uses the Contemporary English Version and the Biblia Americana San Jeronimo. Vibrant illustrations accompany the texts.
Morning Has Broken, Eleanor Farjeon
This hymn text was originally written for children and inspired by Psalm 118: This is the day that the Lord has made; let us rejoice and be glad in it.
Praise the Lord, My Soul,Christopher L. Webber
Psalm 104 for Children
The Lord is My Shepherd, Christopher L. Webber
Psalm 23 for Children
Shout for Joy and Sing! Christopher L. Webber
Psalm 65 for Children
Sing a New Song: A Book of Psalms, Bijou Le Tord
Poetic renderings of several psalm verses paired with lovely watercolor illustrations by Le Tord.
The Praises: Psalm 148, Niko Chocheli
Chocheli is a professor of art and member of the Orthodox Church. His illustrations reflect his study and artistic achievement in Orthodox iconography. This is a beautiful book to introduce to children and return to often.
What Does the Sky Say? Nancy White Carlstrom
A prose poem inspired by Psalm 19.
Glory, Nancy White Carlstrom
Playful illustrations sing and celebrate the way every creature praises God. "Glory be to God for fluttering wings, for chickadees and butterflies...and all small things that wing their praise."
Jubilee, Ellen Yeomans
One vision of heaven as a joyful picnic and reunion.